I recently had the immense privilege of taking a trip up to the Boston/Cambridge area to visit family and friends. It's taken me a while to write about my experience, with UIL and other things going on during the busy springtime, although as an aside, I would like to point out the CSS redesign and addition of responsive media queries on the site - not enough to warrant its own post, but I found it challenging to determine good breakpoints. Anyway, now to fathom the stars of my thoughts into constellations. Be aware, though, that I have a lot of thoughts.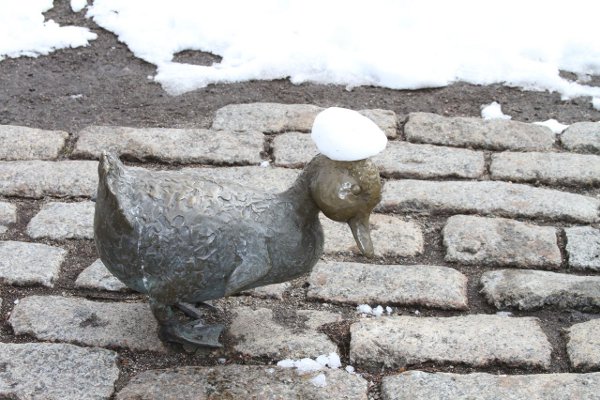 I gave this duck a hat.
Boston
Air travel is always quite the eventful experience, and my journey to Logan Airport was no different. Thankfully, after some unexpected delays, the T was still running into the AM and we were able to make our way to our final destination at Harvard Square via public transportation. I met a pleasant couple of strangers on the Red Line who struck up a conversation after making sure I knew where I was going - I must have looked like quite the tourist. I never did get their names, but they gave me a great first impression of the people of the area. A tidbit of information that they shared with me: interestingly enough, the Red Line is so named because it passes through Harvard; associated, of course, with crimson. The Blue Line takes its name from the part of it that runs under the ocean, and the Green Line derives its name from the Emerald Necklace, a beautiful strand of parks along which it runs. Facts like these fascinate me; one of the things I most deeply appreciate about cities such as Boston is the inherent, rich history associated with these places, as I recall Martin Heidegger's distinction between the idea of "placeness" and its genesis of physical space.
The first day of my visit was dedicated to traversing the Freedom Trail, a 2.5 mile pathway through the heart of Boston and its historically significant locations. I was lucky to have arrived in between snowfalls; there was plenty on the ground to amuse me, and none in the air to bother me. The concept of this self guided tour - led by a distinctive red line marked through the streets - is remarkably brilliant. Throughout the day, the red line took many forms: a painted line, bricks set apart from the others, a faded twinge in the crosswalk. Starting in the Boston Common, I made my pilgrimage toward sites from the folklore of American heritage, such as Faneuil Hall, the Old North Church, the Bunker Hill Monument, and the USS Constitution museum. Maybe this is the tourist in me speaking, but it's remarkable to be surrounded with the remnants of human struggles, triumphs, disappointments. I truly believe that history is an exercise in empathy, and feeling the association of a place with the dreams of someone who lived before me is indeed a strange feeling to behold.
Cambridge
The next day, I made a visit to MIT. I don't even think I can write properly about how great it felt, but I'll do my best. In the morning, I swung by the reception office in the Inifinite to say hi, and headed off to Building 36 to see if I could peek in on an EECS (Course 6) class. A quick aside about the building designation: I love the rationality behind using numbers over names for buildings, but since they're numbered, I assume, in chronological order of construction, it doesn't actually help as much as you'd think it would in finding your way around. Nonetheless, I didn't get too lost because Mass Ave acted as a sort of North Star while I was there, which was great. Anyway, the Compilers class on the list of open classes (6.035) happened to have a quiz and not a lecture that day, so I was only able to introduce myself to the TA and then move on.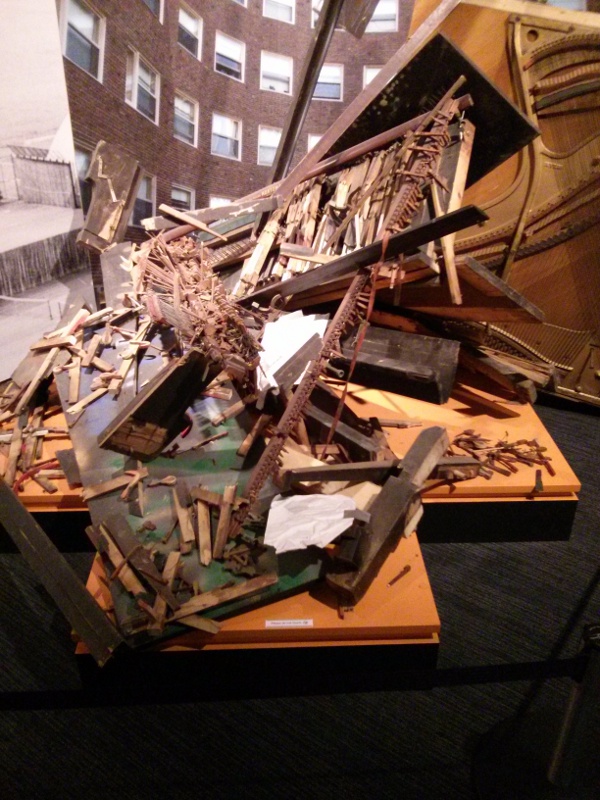 I decided to fill my time at the MIT Museum, which was a great experience for me. I love the work that CSAIL does, and there was a large section of the museum on machine intelligence and robotics research at MIT, from the creation of LISP through the development of machine chess, surgical robots, and beyond. I also enjoyed the "Gestural Engineering" exhibit of intricate kinetic machines in beautifully mechanical configurations. The fascinating motion of each work was recurrent yet subtly varied on each unique iteration. There was also a smashed piano on display from a previous Baker House piano drop. I appreciated the inclusion of somebody's economics pset in the exhibit. I wondered of the owner of that homework, whether or not he or she ever intended to complete it, and how it, of all things, ultimately found its fate in a piano immortalized in a museum. Something subtle, perhaps unintentional, made that piece of art work for me. In the same hallway was a display commemorating Walter Lewin's famous 8.01 pendulum demonstration. I had been enrolled in edX's 8.02x Electricity and Magnetism course taught by Prof. Lewin via his OCW lectures, and his force of personality and knowledge of his subject never fails to make me excited about physics. Unfortunately, I am unable to devote as much time as I would like to the online course; however, "auditing" the class by watching lectures and completing assignments at my own pace has given me tremendous knowledge, experience, and intuition of what electricity and magnetism involves, and has only increased my interest in the subject.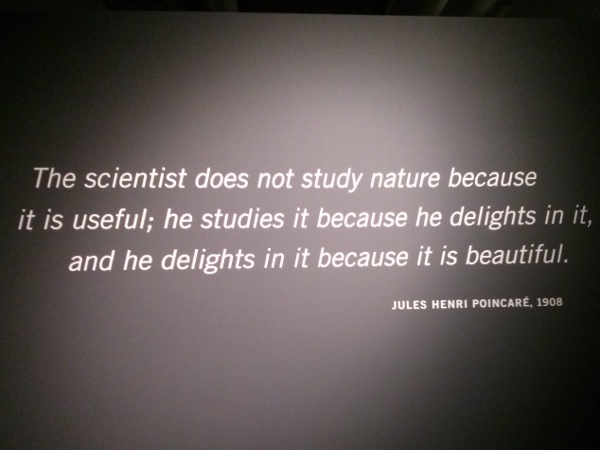 Upon my return from the museum, I joined the Course 6 tour for which I had registered led by a current undergraduate. I took the opportunity to have many of my questions about EECS at MIT answered by someone who has been there, and I learned a lot about the details of pursuing such a course of study. Naturally, I developed my interest in a balance of Electrical Engineering and Computer Science through UIL CS competitions, programming and learning independently, and in physics class learning about E&M, as well as tinkering with Arduino for Rainstorm Glen. My favorite part of the tour was the Media Lab, which I feel is almost an embodiment of everything I think is great about what MIT does. In the lobby, a leaderboard stands above a lounge area displaying the rankings and rules for a gamified socialization experience. People increase their score by, if I recall correctly, laying their IDs on an NFC enabled black box on each table. Points are logged for time spent socializing at Media Lab, with additional points for the number of people with you at the table, etc. The concept of gamifying the lounge is hilariously awesome; I got a good laugh out of the idea that leaderboard scores are the only real reason for humans to interact with each other, and the sheer creativity of implementing such a system is so gratifyingly impressive. Obviously, it was created for the sake of being a cool thing. I love that there is no apparent justification for its existence except that it is awesome, and that's really what it's all about: building amazing things because they are amazing and because they make the world a better place.
After my tour, I met up with my friend in the Stata Center. She told me to find the weirdest looking building on campus, and I realized why on sight. It can be described as an eclectic mix of colors and materials, with a conspicuous disdain for right angles. Funnily enough, T-Mobile has no coverage inside the center and I had trouble finding anything inside the presumably intentionally disorienting network of halls and stairways. She brought me to her (real life) 8.02 E&M class, and although Prof. Gore was out that day, I had a great time experiencing the class in a TEAL setting. I hadn't any previous exposure to the material and the class moved quite quickly, even though I don't make claims to have understood thoroughly most of any of what I heard, the simple fact of exposure to a class which had the capacity to challenge and excite me in new ways was a great experience. I found, too, that a few weeks later when my physics class caught up to 8.02 in terms of content (though of course not depth), I recalled what I had learned that afternoon to provide myself with valuable intuition in truly understanding the material.
"Why are numbers beautiful? It's like asking why is Beethoven's Ninth Symphony beautiful. If you don't see why, someone can't tell you. I know numbers are beautiful. If they aren't beautiful, nothing is."

- Paul Erdős
Later that day my friend's friends showed me around campus. I especially liked the Sol LeWitt Bars of Color within Squares room, as well as the Strobe Hall. It's inspiring how much artistic beauty and value can be found within scientific pursuit. As I departed for the evening I was left with an inexplicable feeling of hope - the inspiration of being in such a creatively constructive environment such as Cambridge is irreproducible but in memory.